Home
LOOKING INTO THE FUTURE FOR A CHILD WITH AUTISM:
AS MY SON'S LIMITATIONS BECAME CLEARER, I FOUND IT HARDER EVERY YEAR TO WRITE A VISION STATEMENT FOR HIS I.E.P. THEN HE SHOWED US HOW
By CAMMIE McGOVERN
AUG. 31, 2017
NEW YORK TIMES
How do you write about the happy life you hope for your child to have when you have a hard time picturing it yourself?
 For 18 years, I've dreaded the yearly ritual of writing a "vision statement" for an Individualized Education Plan, or I.E.P., for our son, Ethan. He has autism and, as any parent of a child with significant special needs knows, the yearly team meeting to develop the I.E.P. can be emotional and fraught. For us it has felt, at times, like an annual adjustment of expectations downward. In theory, the vision statement is a lovely idea — an opportunity for parents to articulate the optimistic future they envision for their child five years down the road. In reality, as Ethan grew up and his limitations — cognitive and behavioral — became clearer, I found it harder every year to write the short paragraph. We came to see he couldn't live independently, get married, work in a job without support — but if those are the givens, what does a hopeful future look like?
This year, as Ethan turned 21 and completed his final year in the school system, he shocked us by writing his own vision statement. Reading his words made me realize how wrong I'd been for years, trying to articulate what my son's future should look like.
While Ethan was still in elementary school, our vision statements included the same wish list I imagine every parent of a child with autism probably has: better communication, fewer meltdowns, more independence. When he was 12, I got more pragmatic, "We wonder if Ethan's love of farm machinery might one day become an employment opportunity." At 13, after a successful stint in the middle school chorus, I wrote, "Ethan would like a future in music, perhaps as a professional singer?" At that point Ethan was still working on using a Kleenex to blow his nose. A future as a singer was far-fetched, I knew, but I wrote it as a way of saying: Ethan does have abilities. We're serious about developing them.
This is the great challenge parents face in these yearly meetings: You're fighting for teachers to help your child work toward a future that, with every year, feels as if it's growing narrower and bleaker. When it's clear he'll never understand money well enough to make change, you cross off the possibility of working in any retail job. When he can't stop rubbing his nose or touching his mouth at work, all food service opportunities dissolve as well. When his self-talk disturbs the nursing home residents where he genuinely likes volunteering, another door closes.
 Even as Ethan bombed out at one job after another, he stayed true to his passions: music, farm equipment, collecting business cards. Oblivious to what looked to us like a frightening and empty future, he was fairly cheerful on a day-to-day basis. If anything, one of his problems on job sites was his failed attempts at jokes and "too much silliness."
 In desperation, we signed Ethan up to work at a local farm that specializes in employing young adults with disabilities assuming it would go the way the others have. He'd be interested at first, then bored, and then — because he was bored — silly and unsafe around the equipment in a way that would get him removed from the program. It was his pattern and if there's anything we've learned, autistic kids love repeating their patterns.
What we wrote for his vision statement that year reflects our rock-bottom expectations: "We hope that Ethan can remain with this program for the year."
Then he surprised us. He worked there for a month and we got no phone calls.
After six months, we got a jolly report. "He's fun! And a pretty good worker for about one to two hours a day." After a year, we were told he'd made it onto a landscaping crew. "What do you do on the crew?" we asked.
"Stuff," Ethan said and listed a few machines we assumed he was watching other people operate. He could mow a lawn, we knew, but he couldn't use a leaf blower. Or a weed whacker. We've lived with Ethan for 21 years. We know his limitations.
 At our last I.E.P. meeting a representative from the farm came and read a report from Ethan's "Crew Captain." We heard that, indeed, Ethan was operating those machines, safely and effectively, along with this final line: "Ethan makes us laugh every day."
I could hardly believe it. I stole a look at his dad and smiled.
This meeting fell at a particularly demanding time in my life and I'd arrived without writing a vision statement ahead of time. When I started to apologize, the vocational coordinator — a young woman who'd struggled for four years to find a job placement for Ethan — held up her hand. "It's fine. Ethan wrote his own this year."
Apparently he'd dictated it to her on a recent visit to the farm. A few minutes later, he read it aloud:
"After I graduate from high school I plan to work at Prospect Meadow Farm until I retire and live at home with my family as long as I can. I'd like to keep taking classes at Berkshire Hills Music Academy. For fun, I want to play Special Olympics basketball, go to our cabin in Vermont and the shore in New Jersey, mow lawns, and collect business cards. My goals for the future are to take the PVTA bus into town to make purchases, and someday learn how to drive a zero-turn lawn mower."
For a full five seconds after he finished, no one said anything. I looked across the table at his speech therapist who had known him since he was 14 years old. She had tears in her eyes. I did, too.
Not simply because Ethan had articulated his own entirely reasonable vision statement, but because it incorporated every aspect of his present life that brings him joy. After years of fabricating visions for a future we never honestly thought possible, Ethan was offering one that was both optimistic and breathtakingly simple: I want my life to keep looking the way it does now.
I wish I could tell other parents at the start of their journey what it's taken me two decades to learn. First, that your child may continue to grow and change and, even at the age of 21, may surprise you by doing things you never thought possible. Second, that in the end, success won't be measured by academic performance or job placement. It will have more to do with accumulating small pleasures and filling your life with those. I don't know why it never occurred to me: Your future should look like the best parts of your present.
Cammie McGovern is the author of four books for children and young adults, all of which feature characters with disabilities.
Logan Katz, 18 months old, knows how to get what he wants as he finishes his bowl of applesauce and rubs his chest with one open palm. His gesture is intentional, and firm. It means "please" in sign language and lets his teacher, Malka Coburn, at The Smith College Center for Early Childhood Education in Northampton, know he wants more.
When she delivers, he digs in, scooping the food into his mouth with his pointer finger before picking up a spoon nearby.
Logan is sitting at a table with half a dozen other babies during snack time at the day care center and the three teachers in this classroom are using American Sign Language to communicate with the children. Some understand the signs but don't produce them. Others use dozens of them before any verbal language develops, says Coburn.
"Logan, do you want more water?" Coburn holds up three fingers and makes a motion with her hand like she is drinking.
He ignores her this time; his full attention is still on the applesauce.
Another baby, sitting in a highchair across the table, holds her hand up in the air and moves it up and down like she is milking a cow. "Are you thinking about milk?" Coburn asks. "We can get you some milk."
Early expression
None of these children, all under 20 months old, has a hearing problem, but sign language is routine here where babies are exposed to signs at as early as 8 weeks old. It is a method used by many educators and parents to give babies a tool to express what they want before they learn to speak, Coburn says.
"It definitely reduces some frustration," for them.
When the babies need a diaper change, some Smith teachers will sign "change." If it is playtime, they might sign "play," but most often the gestures have to do with food, like "more" and "milk."
"It helps them clue into what is coming," Coburn said.
Not long after Logan's parents Matt and Kelly Katz of Belchertown enrolled him in Smith's program at 10 months old, he began using the sign for please at home when he wanted more of his favorite food: blueberries.
"I still remember when he first started doing it," Matt Katz said. "That was a really special moment for us. It wasn't quite like his first step, but it was definitely one of those milestones, like 'holy crap, this little boy can actually communicate something to me.' "
His sign language vocabulary kept growing. At night when he was tired, he would let his mother know he was ready for bed by signing for milk.
When the family went on a plane trip, he signed "thank you" to the flight attendants, a gesture which looks like he is blowing a kiss.
Now Logan can speak about 30 words, says Katz.
He and his wife have no way of telling whether signing hastened his language development, they say, but they're glad he learned it. "Most people tend to think it is pretty sweet and cute," Katz says.
Bridging a gap
Some educators, though, think that there are practical reasons for parents to sign with their babies.
Developmental specialists and speech pathologists at the area state-funded REACH program regularly use sign language to help children achieve early communication milestones, according to Michael Hutton-Woodland, director of the REACH Early Intervention program. The program works with infants and toddlers, birth through age 3, who have developmental delays or medical complications from birth.
"Baby sign language is a way to bring the power of expression to kids," said Sally Rice, a REACH speech and language pathologist.
Speech delays are some of the most common developmental delays and the struggles that come with them can be eased by learning a few simple signs, she says.
The precise, quick movements of articulating speech are pretty challenging, she points out, and the motor skills required for sign language are less complex.
"I am creating another avenue for expression until the child's motor system can handle talking," she said. "I am helping to give parents the power of communication that makes sense for the family."
Babies can understand concepts long before they have the ability to express them verbally, she says, so sign language can bridge the gap.
Proud moments
Sheryl White of Boston, who travels throughout New England teaching sign language to babies and parents, believes that not only does it help babies speak sooner, it promotes literacy. "They have an easier time with reading and writing later on," she said.
White, who has a degree in psychology and is self-trained in sign language, was at the Emily Williston Memorial Library in Easthampton recently conducting a workshop. She regularly visits libraries and schools throughout the state and gives private consultations with parents through her business Baby Kneads.
White says she started signing with her own babies in the 1990s. Most people hadn't heard of the practice then, she says, and thought she was odd.
She was motivated to learn signing when her youngest child, Rachel, a colicky baby, was 3 weeks old. Rachel cried incessantly, White says, and she was willing to try anything to communicate with her infant.
Since then, White has seen the popularity of baby sign language take off. The Forbes Library in Northampton has at least 15 books on the topic as well as a number of DVDs. And day care programs, like Smith's, that teach signing are common.
One parent who attended White's Easthampton workshop, Maria Moreno, sat on the floor with her 4-month-old, William, the baby's eyes fixed on White who was blowing bubbles.
As she blew them, she made the sign for the word bubble — a circle with her thumb and pointer finger.
She leaned in close to William's face, saying the word as she signed it.
The bubbles floated into the air before popping on William's cheeks. He squirmed and grinned.
"Do you want 'more '" White asked as she held her fingers together in front of his face.
Sometimes, she says, she helps babies along by moving their hands into the right positions. They will often start to understand the signs weeks before they can replicate them.
It's good for their self-esteem," she said. "The first time they show you a sign, they can be very proud."
Frustration avoided
A Northampton couple, Dina Levi and Allie Robbin, used signs like "more" and "milk" routinely soon after their daughter Ezra Robbins Levi was born. They also introduced "help," which Ezra used when she had trouble opening up her baby gate.
"It was just nice to feel like she was at least a little empowered," Levi said.
The family had seen friends use sign language with their babies when they lived in the Bay Area in California and were convinced that it worked.
Erza began speaking at around 1, her parents' say, and these days is a talkative 2½- year-old.
Though Ezra no longer uses any of the signs, her parents say they are glad she had them when she needed them.
"It helped us avoid, I think, a lot of the frustrations," Levi said.
Lisa Spear can be reached at lspear@gazettenet.com.
By Lisa Spear, Staff Writer
Daily Hampshire Gazette
Tuesday, July 25, 2017
Worcester-area state legislators, Senator Harriett Chandler and Representative James O'Day, visited ServiceNet's new Enrichment Center in West Boylston on Wednesday, August 16th, to learn about the program and meet with staff and program participants.
From left to right (standing):
Ellen Werner (Director of Operations, ServiceNet Enrichment Centers),  Dylan Zukowski (Program Director, West Boylston Enrichment Center), Senator Harriett Chandler, State Representative James O'Day,  Sue Stubbs (CEO, ServiceNet), Bill Benson (Government Relations Coordinator, ServiceNet)
(Seated): Lori Holden (program participant, West Boylston Enrichment Center)
Growth Opportunities – Prospect Meadow Farm Provides Jobs, Therapy
By GEORGE O'BRIEN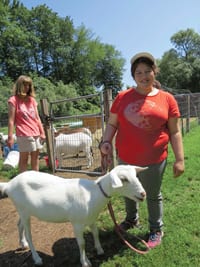 Aerial Mehler grew up on the western end of Long Island, just a short train ride from Manhattan. So, in most all respects, she considers herself a city girl.
Thus, when her family relocated to Western Mass. several years ago, her first reaction was that this region was, in all likelihood, too rural for her liking.
And when she was approached about working at Prospect Meadow Farm in Hatfield, a vocational-services program operated by Northampton-based ServiceNet, after becoming frustrated at a few other employment settings, she was more than a little dubious about the notion that she would soon warm to the place, vocationally and otherwise.
"I thought, 'I'm from the city — I don't do this stuff,'" she told HCN, adding that today … well, she does do that stuff, or at least some of the many things that fall into the broad realm of agriculture and farm management.
In fact, she is the program assistant to the facility's director, Shawn Robinson, and carries out a host of administrative duties ranging from sending out bills to the farm's many customers, especially those who purchase its eggs and log-grown shiitake mushrooms, to drafting reports to the state, to maintaining the farm's Facebook page.
"I call myself the on-call employee, because if something needs to be done, I do it, and it's something different every day," said Mehler, 29, who actually owns one of the goats now living at the farm, a spirited white female appropriately named 'Snowy.'
"I'd say I'm a regular here, but that's a setting on a washing machine," she joked, expressing an opinion held (if not openly expressed) by most all those who work at the farm — men and women of all ages who are on the autism spectrum or have a developmental disability.
Indeed, there are no 'regulars' at Prospect Meadow, only individuals with various talents who, it was thought, could certainly benefit from working outdoors, around animals, and as part of a diverse workforce handling various assignments that, like Mehler's, are different every day — and also make $11 an hour while doing so.
And six years later, that theory has been validated — and then some.
"When the facility was created in 2011, it was with the thinking that there would be a significant therapeutic effect to working outdoors and working with animals," said Robinson. "That's something I believed in before this started, but I didn't quite know how powerful it was.
"One thing that we've seen is that people who were not successful in other work programs and had explosive behaviors, for example, would come here, and we just wouldn't see those behaviors," he went on. "And I have to credit a lot of it to the outdoors and the animals."
Prospect Meadow is a multi-faceted operation with many moving parts. There are anywhere from 800 to 1,000 chickens on the property at any given time, and egg sales are a huge part of this business. Likewise, a shiitake-mushroom venture that started small and continues to grow provides those products to a host of area restaurants and stores.
There is also a landscaping component — crews will be sent out to handle a wide range of small residential and commercial jobs — as well as a catering operation managed out of the farmhouse. There are also plans in the works for both a feed store and a small café, separate operations that will provide employees with additional opportunities to interact with the public.
And, yes, the farm sells goats as well — to those, like Aerial, who want them as pets; to groups who need them for culinary offerings to be served at dinners and festivals; and to entrepreneurs who 'employ' them as "lawnmowers," as Robinson called them.
But while Prospect Meadow might be gaining an identity from all of the above and especially the mushrooms, it is, at its core, a place of opportunity — employment-wise and personal-development-wise — for those who come here and don shirts with the farm's logo, a rooster.
"We're helping to increase these individuals' skills and improve any sort of vocational deficiencies that may be identified, while also providing them with a real, paying job experience in a supportive environment," Robinson explained, "with the hope that combining that support with that training could eventually lead to them being very successful in any career they pursue elsewhere."
For this issue, HCN visited Prospect Meadow to gain a full appreciation for the many aspects of this operation and the many ways it is cultivating growth, in every sense of that term.
An Idea Takes Root
When HCN asked Robinson if he could pick up one of the chickens he was pointing out as he offered a tour of the farm and make it part of a picture, he replied with a confident "sure, no problem."
The chickens, however, were not going along with the program.
Indeed, try as he might — and he tried several times — Robinson could not get both hands around any of these fast-moving fowl, and both hands are needed. So he suggested that the resident llamas might prove to be more willing subjects for a photo shoot.
Only, they weren't. They were rather shy and kept retreating to their wooden home or the shaded area behind it; only bribery, in the form of a late-morning snack, seemed to help. Their recalcitrance gave Robinson an opportunity to shed some light on their presence at the farm (in some respects, they are where this story begins) and one of their primary assignments — protecting the chickens who live in the same general area on the 11-acre property.
"They use their legs to really fight, and other animals know that, and even their scent keeps some predators away … but they'll go after other animals, too," said Robinson, noting that, while llamas are certainly not indigenous to Hatfield, many chicken-loving animals that are, including coyotes, bobcats, and even the occasional bear, seem to know instinctively that messing with a llama is not a good career move.
But these long-legged animals have, as noted, another, far more important role at Prospect Meadow, that of being therapy of sorts for those who come to work there, and this takes Robinson back before the start of this decade and the genesis of Prospect Meadow.
A ServiceNet-operated residential program in Williamsburg for individuals with psychiatric issues was gifted some llamas, he explained, adding that the animals were having a recognizably positive impact on the residents, information that made its way back to ServiceNet director Sue Stubbs.
She was already aware of highly successful farm operations at the former Northampton State Hospital and other similar facilities, he said, and this knowledge, coupled with entreaties from the state for the development of more innovative vocational-services programs, spurred discussions about perhaps establishing such an operation.
However, the original vision was for a residential program for individuals with chronic mental illness, he continued, adding that Prospect Meadow eventually evolved into what it is today, a vocational program with 40 to 45 people working on the property on a any given day.
As for Robinson, he had no experience in the sector known as agribusiness, but that didn't stop him from seeking out this career opportunity — or from thinking he had what it would really take to succeed in the role of director.
"I live in Hatfield and know lots of farmers, but certainly wasn't an expert in that area," he told HCN. "But I was an expert in developing things and building things, so I was pretty confident that I could come up with a vision and develop this into something with the support of the ServiceNet leadership."
And he was right; he's built Prospect Meadow into that unique vocational-services program the state was looking for.
Individuals are referred to the program through the Mass. Department of Developmental Services (DDS) or through a school's special-education department, and they often arrive after working in other settings.
Most of the farmhands are between the ages of 18 and 35, but there are some who are much older, and one individual recently retired after turning 65. They come from across Western Mass., but most live in Franklin and Hampshire counties.
Revenue to maintain the farm and its various facilities and pay some of the employees is generated in a number of ways, including the sale of eggs, mushrooms, and other products; the catering and landscaping services; and through community-supported agriculture (CSA) shares sold to area residents who, through those contributions, not only support the farm and its work, but fill their table with fresh produce.
Robinson said the farm operation takes on added significance today not only because it provides a different and in many ways better employment opportunity for those with various developmental disabilities, but because such opportunities are becoming increasingly harder to find.
Indeed, he said piecework job opportunities in area factories are fewer in number, and for a variety of reasons. And while some employers actively hire individuals with developmental disabilities, there is a recognized need for more landing spots.
Not a Garden-variety Business
Still, as noted, Prospect Meadow isn't merely another a place of employment for those who come here. Because it is agribusiness, it provides opportunities daily that fall more in the category of 'therapy' than 'work,' although they are obviously both.
And this brought Robinson back to the subject of the animals, which are not exactly a profit center (with the exception of the chickens and their eggs), but provide payback of a far different kind.
"We keep the animals, even at a little bit of a loss, because they are able to make the farmhands more impactful in their other work," he explained. "Having that 20 minutes to feed a goat in the morning or care for a rabbit makes them more focused when they're dealing with the shiitake mushrooms or working in the garden."
Indeed, the farmhands, when asked about what they enjoyed most about coming to work every day, typically started with the animals.
But they also spoke of the importance of the bigger picture, meaning being able to earn a better paycheck, learn a number of different skills, do something different every day, and work alongside others.
It was Justin Cabral, an energetic, extremely candid 26-year-old from Deerfield, who probably best summed up the many types of opportunities that the farm provides to individuals like him.
"I really love this job; it's a real blessing," he told HCN, before going into some detail about all that he meant by that. And he started with some very practical matters.
"Before I came here, I was doing piecework at a different place," he noted. "The pay wasn't very good at all; I decided to leave and come here."
But then, he moved on to the many other elements in this equation — everything from gaining confidence from taking on various job assignments (including work to drill holes in logs with power tools) to learning how to work in teams, to overcoming fears, such as those involving animals.
"I drill holes in the shiitake logs, and I've become really good at it," said Cabral, now in his second year at the farm. "And I used to be afraid of the chickens and the rabbits, and a lot of the animals here, but not anymore.
"I like everything … I like the egg collections, I like working out in the fields, I like feeding the animals, I like hanging out with my friends, and a lot more," he said in conclusion. "It's a great job, and there's something here for everybody."
Those sentiments were echoed by the many others we spoke with, and through their comments it became clear that Prospect Meadow provides much more than jobs.
Indeed, Robinson said the experience gained at the farm can open the doors for people in a variety of other settings, including other area farms, where individuals would work independent of state support.
Meanwhile, there are career paths at Prospect Meadow itself, he noted, adding that one can move — and some have — from farmhand to senior farmhand to 'job coach,' a level where the state is providing no funding for the individual, who has moved into what amounts to, as the name implies, a coaching position.
Scott Kingsley, 36, is a candidate for that job title, which would bring with it a host of new responsibilities, a pay increase, and benefits such as health insurance. He is currently working to help open the feed store and will work closely with those assigned to that operation.
"I like working with the animals, but I also like doing all kinds of different things," said Kingsley, clutching the walkie-talkie that also comes with senior-farmhand status. "I guess what I like most is working with other people and helping them make money."
Experts in Their Field
As he wrapped up his interview with HCN, Cabral turned to Robinson, who asked him if he wanted to go back to his duties at the shiitake logs or hang in and listen to others as they offered comments.
"I'm not getting paid to sit here and talk," he said with a voice that blended sarcasm and seriousness in equal doses. "I've got to go back to work."
And he did just that, as the others would when it was their turn.
Most of them come here for four or five days a week, in all kinds of weather and at all times of year (this is a farm, after all). But none of them would prefer to be called a regular.
That term, as Mehler so eloquently noted, should be reserved for one of the buttons on a washing machine.
Here, there are only individual farmhands who together comprise a hard-working team that makes this farm a well-run business where there are growth opportunities — of every breed and variety.
And a place that can almost prompt Mehler to say she was a city girl.
If you notice that 
your own information 
or 
your program information needs to be updated,
ServiceNet clinicians will hold a free information session about current evidence-based approaches to treatment for obsessive compulsive disorder (OCD) and related disorders, including hoarding disorder or issues with clutter, on Wednesday, July 19th from 6-7pm in the conference room located on the street level of the Nonotuck Mill, 296 Nonotuck Street in Florence.  This session is free and open to anyone who wishes to attend, whether they are concerned about themselves or a friend or family member, or they simply wish to learn more. 
 
People struggling with OCD or a related diagnosis need tools and resources to get better.  Working in partnership with national leaders in the field of research about and treatment for OCD and Hoarding Disorder, ServiceNet has developed an OCD program which is now being offered by therapists in its Northampton, Greenfield, and Holyoke clinics. 
 
Obsessive compulsive disorder can take many forms. In general, it includes unwanted and repeated thoughts, feelings, ideas, and sensations (obsessions) that drive people to do something to help neutralize or alleviate the anxiety. The treatment approaches used for OCD can also be helpful for people who experience body dysmorphic disorder, excoriation (skin picking), trichotillomania (hair pulling), and other emotionally painful disorders including phobias and social anxiety.
 
For more information about ServiceNet's OCD and Related Disorders program, please call 413-587-7731.